PCA cheerleaders dominate the mat at FCA Cheer Camp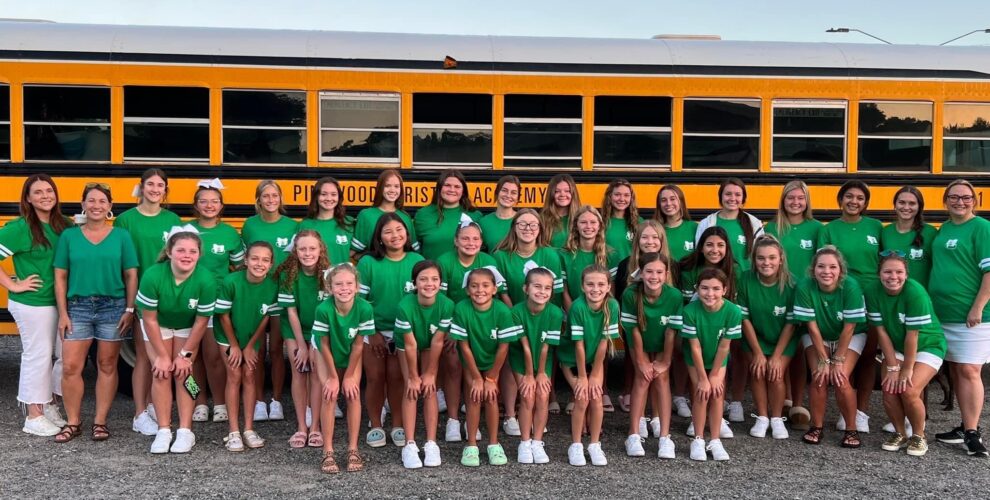 By:  Haleigh McWilliams, PCA freshman
To prepare for the approaching cheer season, the Pinewood Christian Academy cheerleaders attended the Fellowship of Christian Athletes (FCA) Cheer Camp. This year, the camp was hosted by Valdosta State University from July 18 to the 21. The theme of this year's camp was "Everything in Christ. Everyone through Christ. Every way like Christ. Every day with Christ." FCA used the book of Ephesians to convey this message and demonstrate how to better walk with Christ. This year's key verse was Ephesians 1:3 "All praise to God, the Father of our Lord Jesus Christ, who has blessed us with every spiritual blessing in the heavenly realms because we are united with Christ."
Each day, the girls would work on various skills including band dance routines, cheers, chants, and stunts. At the end of every day, the girls would attend an FCA cheer huddle. A trained Christian college huddle leader would lead the huddle in a devotional and Bible study. Claire Mullis and Hadden Waters were named "Heart of the Huddle" for PCA's varsity and JV teams. The "Heart of the Huddle" is someone who always encourages and leads conversations about Christ and shows outstanding leadership in and out of the huddle, including day-to-day camp activities.
During camp week, cheerleaders have the opportunity to try out for the All-American team. Claire Mullis, Ava Woolard, Jaeley McGregor, and Genevieve Bradley each earned the title of All-American. The team has the opportunity to attend the Chick-fil-a Peach Bowl in Atlanta and perform at the pre-game festivities.
Camp ended with a final competition in which all teams performed the band dances, routines, and sideline cheers they had learned over the past three days. Parents gathered to cheer them on while their performances were judged and teams were given awards for their improvement and execution of their routines. This year, the varsity cheerleaders were named the supreme routine champions and won the spirit stick. The JV won the overall sideline award and were also named the supreme routine champs. The varsity and JV squad were named most spirited and brought home the infamous banana, both high honors. Pinewood's cheer teams are eager to once again show their dominance on the mat and show off their new moves at the upcoming pep rallies and competitions.