The PCA cheer legacy starts with wee cheer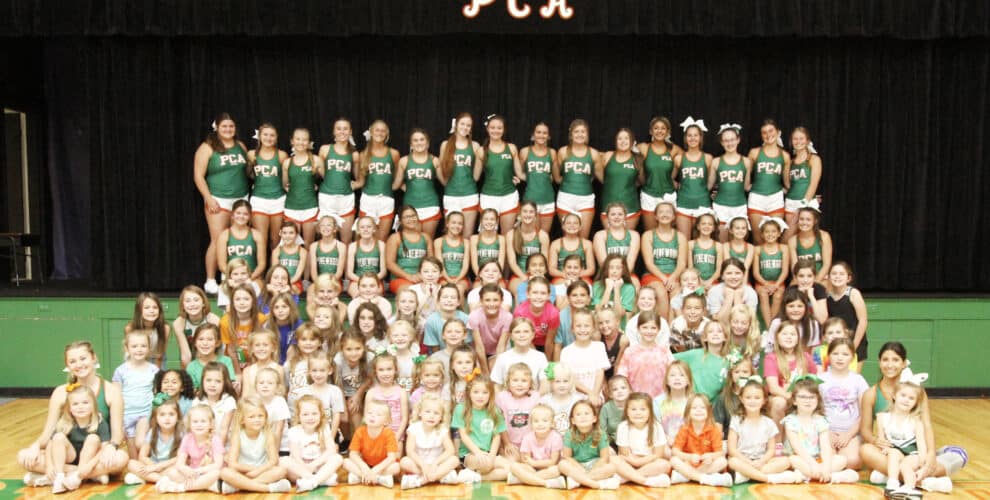 By: Haleigh McWilliams, PCA Freshman
Pinewood's annual Wee Cheer Camp for students in K-4 through 4th grade was a big success. Each year, wee cheer is led by the Pinewood varsity and junior varsity sideline and competition cheer teams.  Throughout the week, wee cheerleaders learned chants, cheers, basic stunts, and a dance routine that they performed during Friday night's football game against First Presbyterian Day.
The theme of this year's cheer season is, "The Legacy Starts Here," so how fitting it was to apply this theme to the little girls who might one day wear the Pinewood Patriot cheer uniform.  The cheer team verse for the year is Galatians 6:9 which says, "Let us not become weary in doing good, for at the proper time we will reap a harvest if we do not give up." The theme carried through to the camp because many girls join wee cheer to start their legacy at Pinewood cheerleading. Wee Cheer is a great opportunity for the younger girls to experience how to work together as a team and give them a look into their potential future as a PCA cheerleader.
Friday night, the wee cheerleaders showed up to the game dressed out in PCA uniforms ready to perform for the half-time show and what a show it was!  The girls entered the field and got the fans on their feet.  "Wee Cheer is an event that I look forward to every year. It gives the cheer squad an opportunity to get to know and form relationships with younger girls all while showing them how to cheer on our Patriots!" shared senior cheerleader, Claire Mullis.