Pinewood track team takes the win in season opener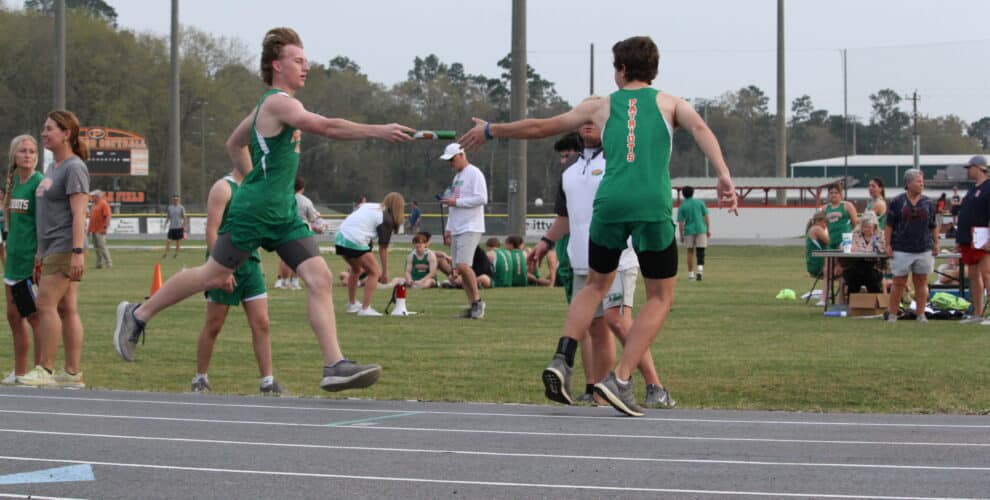 By: PCA Journalism
Pinewood's varsity track teams hosted their opening season meet this week on March 1. Schools that came out to the event included:  Pinewood (PCA), Vidalia Heritage Academy (VHA), Edmund Burke Academy (EBA), and David Emanuel Academy (DEA).
In the girl's competition, PCA claimed the win with a score of 109. EBA came in 2nd with 87 points closely followed by VHA with 38, and DEA with 12.
PCA's boys took the first place slot with 148 points, followed by DEA with 37 points, Heritage with 32, and EBA 4.
Events:

3200 Meters 
Girls:
2nd – Ella Johns (16:11)
Pole Vault
Girls:
1st – Mary Lucy Dasher (7'5")
Boys:
1st – Jesse McLendon (10')
2nd – Grayson Brinkley (8'5")
Discus
Girls:
1st – Jaeley MacGregor (90'2")
4th – Lara Durrence (71'4½")
Boys:
1st – Peyton Williams (139'9")
4th – Wyatt Dasher (85'2.5")
Shot Put
Girls:
1st – Jaeley MacGregor (30')
3rd – Ramsey Middleton (26'10")
Boys:
2nd – Peyton Williams (40'6")
4th – Will Wasson (32'1½")
Long Jump
Girls:
2nd – Becky Edwards (14'6 ¾")
3rd – Mary Lucy Dasher (14'1½")
Boys:
1st – Jake Rogers (21'11")
2nd – Tyson Swindell (18'11")
Triple Jump
Girls:
2nd – Mattie Spacek (29'8¾")
3rd – Ava Woolard (26'11½")
Boys:
1st – Kaedan Arnold (40'5")
2nd – Tyson Swindell (39'6")
High Jump
Girls:
3rd – Abi Scott (4'8")
5th – Aubree Cate Danner (4'4")
Boys:
1st – Pearce Dutton (5'8")
2nd – Luke Scott (5'4")
100 Meters Hurdles
Girls:
3rd – Abi Scott (20.33)
4th – Ava Kinlaw (20.47)
110 Meters Hurdles
Boys:
1st – Tyson Swindell (18.89)
2nd – Seth Dekle (24.28)
100 Meters
Girls:
2nd – Ava Anderson (13.25)
3rd – Becky Edwards (14.019)
Boys:
1st – Jake Rogers (11.6)
2nd – Kaedan Arnold (11.87)
1600 Meters
Girls:
2nd – Laci Stone (7:23)
5th – Maddie Kent (10:56)
Boys:
1st – Carter Sikes (5:55)
3rd – Bryson Croft (6:22)
400 Meters 
Girls:
1st – Ginny Nutting (67.18)
5th – Helen McDonald (75.22)
Boys:
1st – Banks Durrence (61.59)
2nd – Walker Todd (62.82)
300 Hurdles
Girls:
1st – Abi Scott (50.43)
Boys:
2nd – Luke Scott (41.53)
3rd – Tyson Swindell (57.28)
800 Meters
Girls:
2nd – Laci Stone (3:03)
3rd – Erica Wasson (3:45)
Boys:
1st – Jordan Kinlaw (2:41)
200 Meters
Girls:
1st – Ava Anderson (27.9)
3rd – Cassidi Lynn (33.15)
Boys:
1st – Jake Rogers (24.95)
2nd – Kaedan Arnold (25.68)
4×100 Relay
Girls:
1st – A Team – Cassidi Lynn, Becky Edwards, Abi Scott, Ava Anderson (56.40)
2nd – B Team – Ava Woolard, Riley O'Sullivan, Milli Anderson, Aubree Cate Danner    (59.41)
Boys:
1st – A Team – Kaedan Arnold, Tyson Swindell, Jake Rogers (46.89)
2nd – B Team – Carter Sikes, Luke Scott, Bank Durrence, Bryson Croft (49.41)
4×400 Relay
Girls:
2nd – A Team – Abi Scott, Ginny Nutting, Ava Anderson, Aubree Cate Danner (4:53)
Boys:
1st – A Team – Kaedan Arnold, Luke Scott, Banks Durrence, Jake Rogers (5:08)
2nd – B Team – Will Wasson, Walker Todd, Seth Dekle, Tyson Swindell (5:14)
4×800 Relay
Girls:
2nd – A Team – Laci Stone, Ella Johns, Helen McDonald, Emma Strickland (12:54)
Boys:
1st – A Team – Carter Sikes, Bryson Croft, Jordan Kinlaw, Seth Dekle (11:30)