Pinewood track teams take second at BA Meet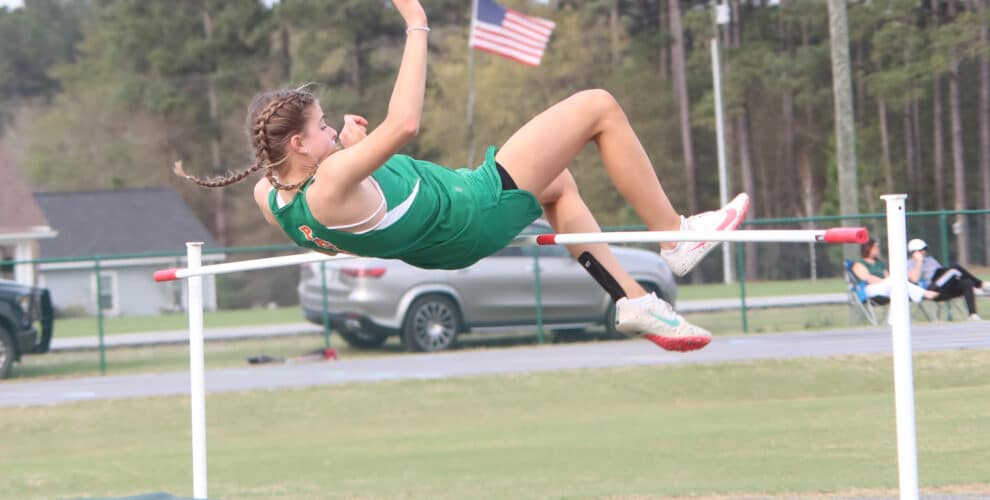 By: Reagan Parker, PCA sophomore
Pinewood's varsity track teams traveled to Bulloch Academy to compete in the 3 track meet. Schools that came out to the event included:  Pinewood (PCA), Bulloch Academy (BA), Robert Toombs Christian Academy (RTCA), Vidalia Heritage Academy (VHA), Heritage Christian Academy (HCA), First Preparatory Bryan Co. High School (CCA), and Portal High School (PHS).
Pinewood's boys brought home 2nd earning a total of 91.5 points overall, BA winning with 142 points.  RTCA in 3rd with 86, Portal with 79, Bryan with 67.5, DEA with 25,  FPCA with 18, and VHA with 11.
In the girl's competition, Pinewood claimed the second with a score of 118 just behind BA who won with a score of 178. RTCA came in 3rd with 78 points followed by Portal with 68, Bryan with 39, and VHA with 2.
Events:
3200 Meters 
Girls:
4th – Ella Johns (15:44)
5th – Priscilla Dillon (17.34)
Pole Vault
Girls:
1st – Mary Lucy Dasher (7'3")
Boys:
3rd – Jesse McLendon (9'6')
4th – Johnathan Fries (9'0")
Discus
Girls:
1st – Jaeley MacGregor (84'7")
6th – Lara Durrence (63'11")
Boys:
1st – Peyton Williams (143'3")
5th – Yug Patel (98'11")
Shot Put
Girls:
1st – Jaeley MacGregor (30'3½")
6th – Lara Durrence (25'6")
Boys:
4th – Peyton Williams (41'0")
Long Jump
Boys:
3rd – Tyson Swindell (19'4")
Triple Jump
Girls:
5th – Mattie Spacek (28'6½")
Boys:
2nd –Tyson Swindell (41'1/2")
High Jump
Girls:
3rd – Abi Scott (4'8")
Boys:
5th – Pearce Dutton (5'6")
100 Meters Hurdles
Girls:
3rd – Becky Edwards (17.28)
4th – Abi Scott (17.33)
110 Meters Hurdles
Boys:
3rd – Tyson Swindell (17.90)
6th – Seth Dekle (20.28)
100 Meters
Girls:
3rd – Katelin Smith (13.62)
1600 Meters
Boys:
6th – Cash Bland (5:51)
400 Meters 
Girls:
1st – Ginny Nutting (66.26)
3rd – Lilly Griffin (67.25)
Boys:
1st – Banks Durrence (56.62)
300 Hurdles
Girls:
3rd – Aubree Cate Danner (56.16)
Boys:
2nd – Luke Scott (46.94)
3rd – Tyson Swindell (48.29)
800 Meters
Girls:
3rd – Payton Cowart (2:52)
200 Meters
Girls:
6th – Becky Edwards (34.18)
4×100 Relay
Girls:
2nd– A Team – Katelin Smith, Becky Edwards, Abi Scott, Lilly Griffin (53.38)
4×400 Relay
Girls:
1st – A Team – Payton Cowart, Ginny Nutting, Lilly Griffin, Aubree Cate Danner (5:01)
6th – B Team – Kayla Cowart, Priscilla Dillion, Ryleigh O'Sullivan, Ella Johns (5:04)
Boys:
3rd – A Team – Luke Scott, Maddox Akins, Banks Durrence, Tyson Swindell (4:15)
4×800 Relay
Girls:
3rd – A Team – Emma Strickland, Ella Johns, Payton Cowart, Ginny Nutting (12:23)
5th – B Team – Polly Claxton, Ramsey Middleton, Erica Wasson, Kayla Cowart (14:05)
Boys:
3rd – A Team – Carter Sikes, Bryson Croft, Jordan Kinlaw, Seth Dekle (10:36)