Pinewood Christian Academy JR Beta Club Attends State Competition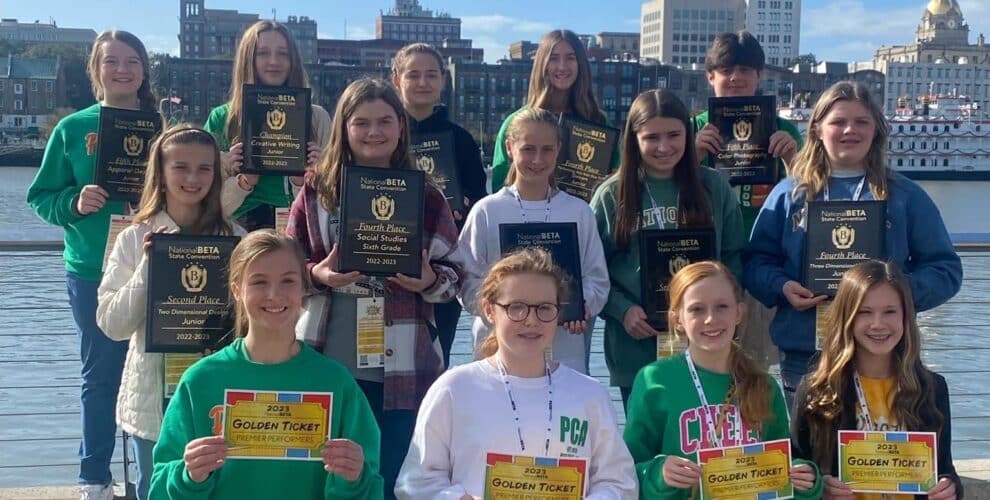 By: PCA Journalism
National Beta members from Pinewood Christian Academy are celebrating their recent participation in the State Beta Convention recently held in Savannah, Georgia. They were announced as winners of the following competitions:
1st place champion – Creative Writing – Abby McDonald;
2nd place – Pottery – Kennedy Hodges;
2nd place- 2-D Design-Kamryn Waters, Hadden Waters and Adelyn Ammermon;
2nd place – Songfest Group:  Maclain Tucker, Fysher Monroe, Maggy Bluestein, Ada Grace Hendrix, Ellie Jarriel, Bonnie Blocker, Caroline Fries, Hagan Smith, Hallie Watkins, Eden Griffith, Kennedy Elrod, Olivia Mathis, Charlie Rose Sikes, Shelby McWilliams, Layton Cloud, Brant Davis, Anna Snipes, Jack Hales, Jayden Thompson, Izzy Ortiz, Trice Deen, Hadden Waters, Shelby Croft, Addison Swindell, and Lizzie Brown;
3rd place – Book Battle – Shelby Croft, Shelby McWilliams, and Addison Swindell;
4th place – 3-D Design – Kennedy Elrod, Caroline Fries, Olivia Mathis, Hagan Smith, Hallie Watkins, and Charlie Rose Sikes;
4th place – Social Studies – Shelby McWilliams;
4th place Solo Dance – Lily Grace Freeman;
5th place – Apparel design – Shelby Croft;
5th place – Color Photography – Wyatt Mathis;
Golden Ticket to Nationals – small group dance – Maggy Bluestein, Eden Griffith, Jorja Cowart, and Hadden Waters.
National Beta State Convention allows students the opportunity to compete in various academic and STEM-based, virtual and performing arts competitions. State Convention was offered as a hybrid event. This gave students the opportunity to compete either virtually or onsite at Savannah, GA depending on their level of comfort. These victories at the state level provide an opportunity to compete at the national level. National Convention will be held at the Kentucky International Convention Center in Louisville, KY during summer 2023.
Junior Beta Club sponsors Mrs. Missi Elrod, Mrs. Lauren Bluestein, and Miss Elizabeth Tatum are extremely proud of each and every student who participated.  The sponsors are looking forward and already planning for next year's convention.
Pinewood's Junior Beta Club was established in 2014.  The PCA Junior club includes grades sixth, seventh, and eighth with students advancing to Senior Beta sponsored by Mrs. Susan Nobles once they reach ninth grade.  Students have competed yearly at state competition since the club was founded and have represented their school and state well each year bringing home many awards and wonderful memories.
With more than 500,000 active members and 9,000 clubs nationally and internationally, National Beta has become the nation's largest independent, non-profit, educational youth organization. National Beta promotes the ideals of academic achievement, character, service and leadership among elementary and secondary school students. National Junior Beta includes grades 4-8 and National Senior Beta includes grades 9-12. Visit betaclub.org for more information.
Pinewood Christian Academy is proud of these students' accomplishments. Pinewood's Junior Beta is looking forward to another successful year at Junior Beta State Convention 2023.