PCA tracksters remain on top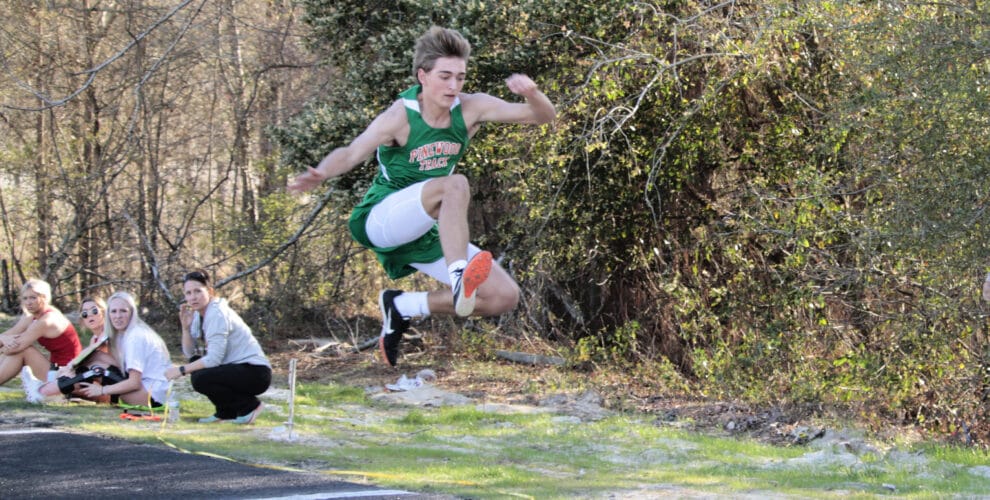 By: Reagan Parker, PCA freshman
Pinewood's varsity girls' and boys' track teams returned to Bulloch Academy on March 9th to compete in their second meet of the season. Nine schools turned out for the event on the overcast afternoon including:  PCA, BA, VHA, RTCA, HCA, FPCA, David Emmanuel Academy (DEA), Windsor, and Bryan County.
PCA's varsity girls came in first with 151 points, followed by BA with 147, RTCA with 132, and Windsor with 68 in the top 4.
Varsity boys also took the first place slot scoring 165.5 points, followed by BA with 154.5 points, and Bryan Co. with 123.5 in the top 3.
Events:
 3200 Meters 
Girls:
1st – Laci Stone (15:03)
3rd – Ella Johns (15:29)
Boys:
1st – Bryson Croft (12:54)
5th – Yug Patel (17:09)
Pole Vault
Girls:
4th – Mary Lucy Dasher (7'0")
Boys:
1st – Jackson Fries (9'6")
4th – Jesse McClendon (9'0")
Discus
Girls:
1st – Jaeley MacGregor (83'10")
6th – Lara Durrence (64'2")
Boys:
1st – Peyton Williams (123'9")
8th – Cade Beecher (84'10")
Shot Put
Girls:
2nd – Jaeley MacGregor (29'4")
6th– Lara Durrence (24'11½")
Boys:
2nd – Peyton Williams (40'10½")
5th – Mic Wasson (38'5")
Long Jump
Girls:
6th – Libby Kate Blocker (12'8¾")
Boys:
7th – Kaeden Arnold (17'3½")
Triple Jump
Girls:
3rd – Mattie Spacek (28'4")
8th – Ava Woolard (26'1¾")
Boys:
2th – Tyson Swindell (39'10¼")
3rd – Kaedan Arnold (39'3¼")
High Jump
Girls:
3rd (tie) – Abi Scott (4'10")
6th – Payton Cowart (4'6")
Boys:
4th – Luke Scott (5'8")
6th – Pearce Dutton (5'4")
110 Meters Hurdles
Boys:
3rd – Tyson Swindell (19.41)
100 Meters
Girls:
2nd – Katelin Smith (13.15)
Boys:
1st – Mic Wasson (11.41)
1600 Meters
Girls:
1st – Payton Cowart (6:36)
4th– Ginny Nutting (7:05)
Boys:
6th – Bryson Croft (6:30)
7th – Jesse McClendon (6:58)
400 Meters 
Girls:
2nd – Lilly Griffin (68:87)
Boys:
1st – Banks Durrence (55.94)
4th – Preston Lowe (59.53)
300 Hurdles
Girls:
2nd – Abi Scott (51.38)
Boys:
4th – Luke Scott (46.84)
5th – Tyson Swindell (48.48)
800 Meters
Girls:
1st – Lilly Griffin (3:09)
2nd – Libby Kate Blocker (3:10)
Boys:
4th – Pearce Dutton (2:32)
5th – Luke DeLoach (2:34)
200 Meters
Girls:
3rd – Katelin Smith (29.03)
Boys:
3rd (tie) – Mic Wasson (25.50)
4×100 Relay
Girls:
6th – Katelin Smith, Cassidi Lynn, Mattie Spacek, Milli Anderson (56.22)
Boys:
2nd – Banks Durrence, Preston Lowe, Mic Wasson, Kaedan Arnold (46.66)
6th – Jesse McLendon, Luke Scott, Luke DeLoach, Colby Danner (51.0)
4×400 Relay
Girls:
1st – Riley Nevil, Lilly Griffin, Payton Cowart, Abi Scott (4.37)
4th – Ginny Nutting, Priscilla Dillon, Libby Kate Blocker, Ella Johns (5.00)
Boys:
5th – Jesse McLendon, Luke DeLoach, Bryson Croft, Preston Lowe (4:15)